Product Introduction
Grain multi-head packaging machine combination, fully automatic solid packaging machine factory wholesale, vertical packaging machine systemuses automation technology to automatically complete a series of packaging actions, such as: feeding, measuring, filling bags, printing dates, and product output can be completed independently without manual operations. Touch screen control, and good man-machine relationship, easy to operate and use.If you are interested in our vertical packaging machines,please contact us!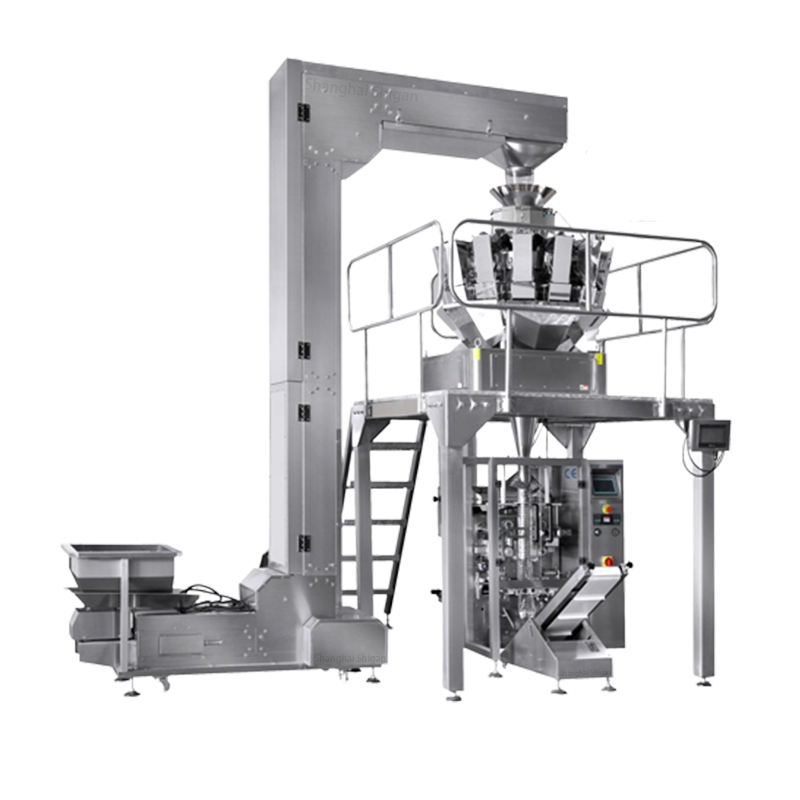 Technical Parameters
The main material of the equipment: 304 stainless steel is used for the part in contact with the food
Bag size: width 100-250mm length 80-400mm
Packing speed: 20-50 bags/min (the speed is determined by the product itself and the filling weight)
Host power: 4Kw three-phase AC380V 50/60Hz
Dimensions: 2850mm*1500mm*1650mm (length, width, height) host
Machine weight: about 1400KG (varies according to specifications)
Air Consumption: 0.5m3/min (Air compressor provided by customer)
Compressed air: common pressure 0.3MPa
Consumption: 220L/min (ANR) ) (varies with machine speed and specifications)
Air compressor: three-phase 50HZ 2.2kw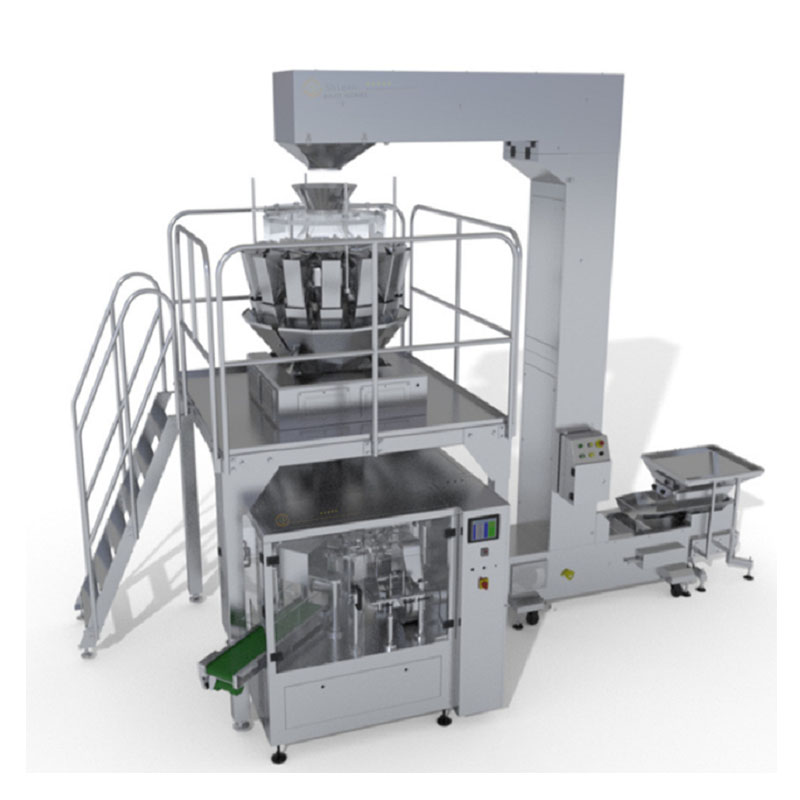 Main Features
1. Fast packaging, stable performance and high yield;
2. The meter has a waterproof system, which is easy to assemble and disassemble and easy to clean;
3. Adopt color touch electronic display screen, easy to operate;
4. High equipment and technology content, easy to manage;
5. At a reasonable cost, innovatively solve various product packaging problems.
6. Automatic detection function: if the bag is not opened or the bag is incomplete, no material is added, no heat sealing, the bag can be reused, no material is wasted, and the production cost is saved for the user.
7. aq device: when the working air pressure is abnormal or the heating tube is faulty, the alarm will be prompted;
8. Some imported engineering plastic bearings are used, no need to refuel and reduce the pollution to materials.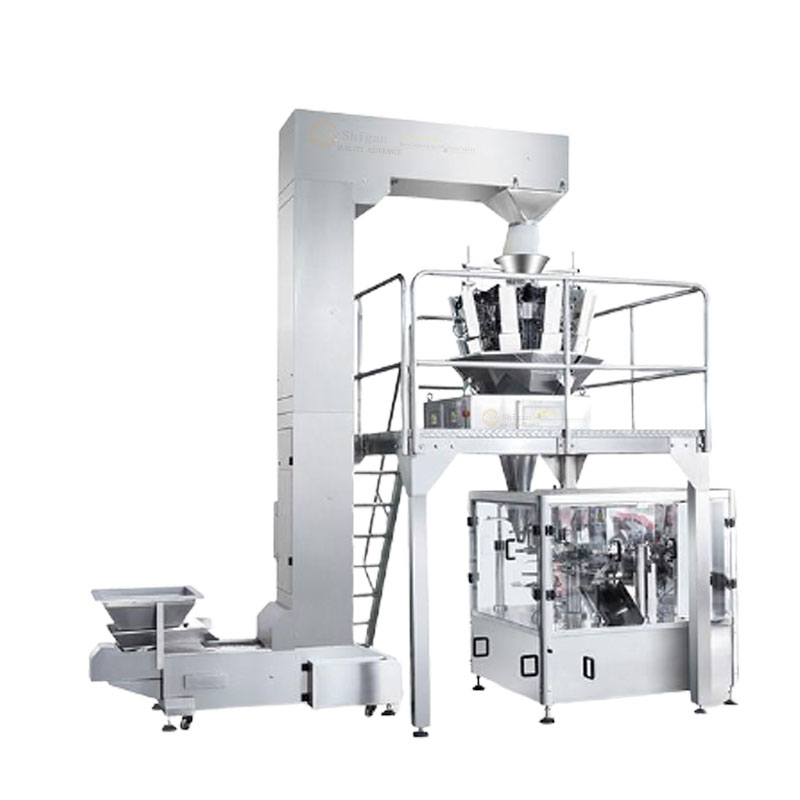 Application
The packaging machine is suitable for automatic packaging of food, chemical, daily necessities, agricultural supplies, medical supplies, feed, hardware and other industries.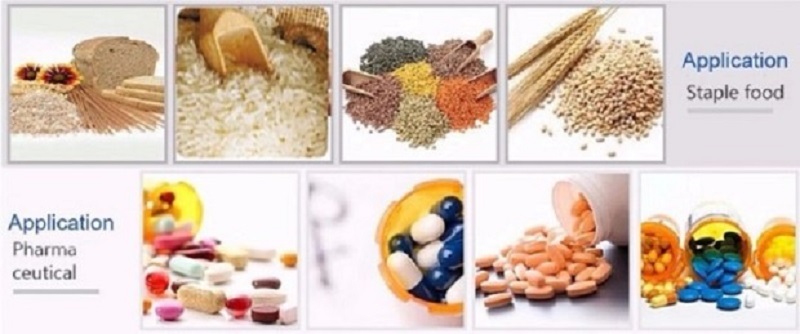 Our Company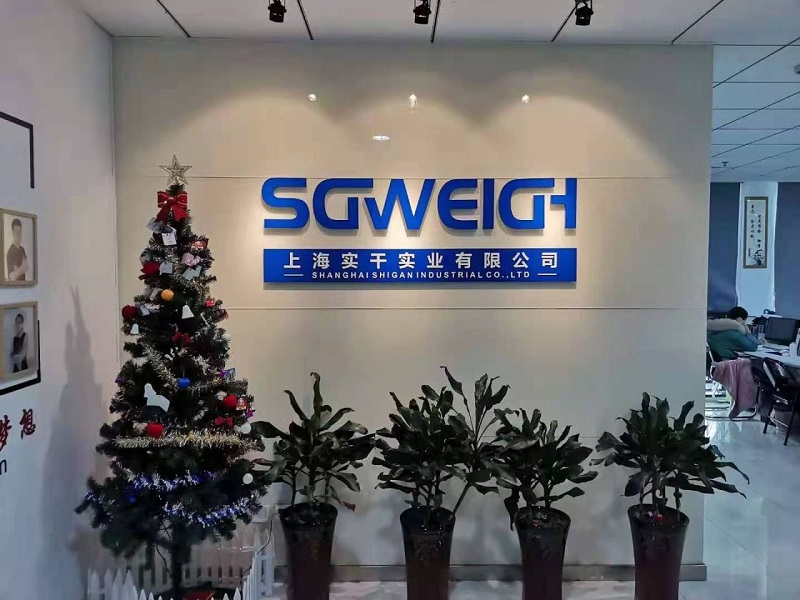 Shanghai Shigan Industrial Co., Ltd. was established in May 2010. It is an independent brand with more than 10 years of practical experience in packaging technology. It has a modern standard workshop and focuses on the research and development and manufacturing of automatic packaging lines for vertical packaging machines. It is a company integrating research and development, manufacturing , sales and after-sales service in one of the high-tech enterprises. At present, the company has developed and produced a number of series of automatic vertical packaging machines. With good performance, mature technology, easy operation, easy maintenance, safety and durability, they are widely used in food, daily chemicals, medicine, and chemical industries.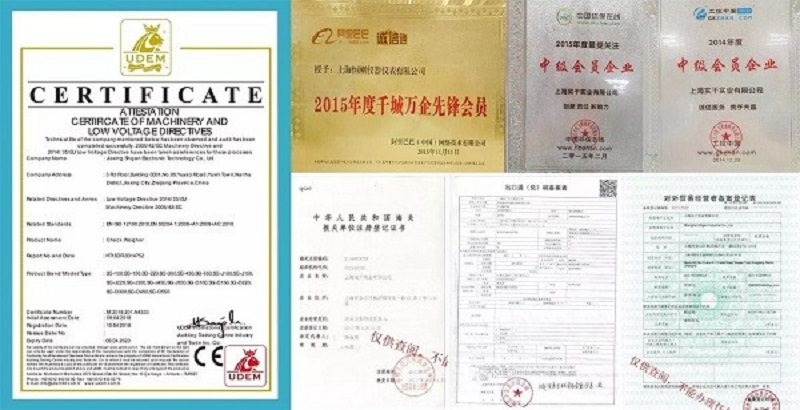 After Sale Service
About the price: The price is based on the customer service quotation as the real price!
About quality: seven-day replacement, one-year warranty, lifetime maintenance!
About the certificate: Each product will be equipped with a certificate of conformity before shipment, please rest assured to buy!
About delivery: The delivery cycle is within 3-5 days after the order is placed. If there is stock, it will be sent out in a short time. The customer needs to customize it. The specific delivery time will be notified to you by the customer service track!
About maintenance: If the customer's product fails, we will provide you with a specific solution.
Hot Labels