Product Introduction
Available in a wide range of widths and heights,300-500mm Industrial Automatic Metal Detector Machine are ideal for maximum detection sensitivity and protection for your products. The length and size of the machine can be designed and manufactured according to requirements.The standard design is adopted, and the Metal Detector Machine Food Grade For Snack design meets the requirements of food machinery, and is suitable for connecting assembly line inspection operations.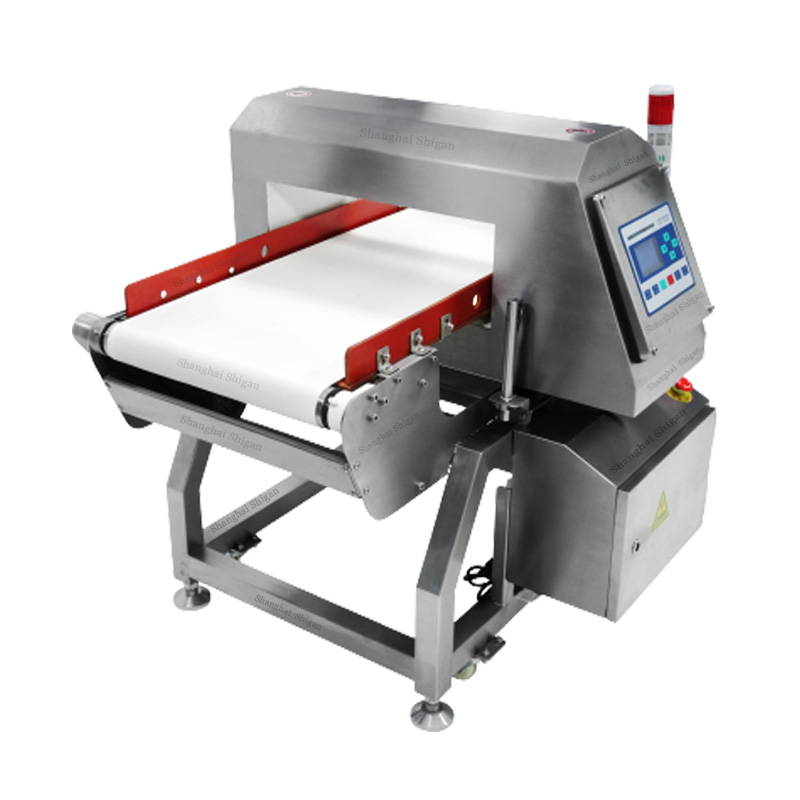 Technical Parameters
◆Detection window height: 120㎜. (Regular size: 100/120/150/200mm, other heights can be customized according to requirements, the higher the window height is, the lower the sensitivity will be.)
◆Detection window width: 300-500㎜.
◆Material of body: Made of stainless steel.
◆Sensitivity: iron ball φ0.8㎜-φ2.5㎜
◆Stainless steel 304 copper aluminum and other non-ferromagnetic metals ≥φ1.2㎜.
◆Power supply: 220V 50Hz.
◆Power: 120W.
◆Alarm mode: Sound and light alarm, and automatic shutdown.
◆Dimensions (length×width×height㎜): 1600×840×1005.

Main Features
◆This machine is made of all stainless steel 304, and adopts food-grade special sanitary conveyor belt;
◆Digital machine is brand new and fully functional with memory function, which can store a variety of product testing parameters;
◆LCD liquid crystal display, Chinese and English menu screen, easy to operate;
◆High detection accuracy, more stable and reliable working conditions.
◆The combination of DSP and single-chip microcomputer performs data sampling and data processing on the detection signal, which improves the detection effect.
◆Brand-new circuit design, with ultra-high detection sensitivity, phase adjustment technology, can adjust the product, effectively suppress the product effect;.
◆It can detect various materials such as iron, non-ferrous stainless steel, copper, aluminum and non-ferrous metals
◆Has self-learning ability, detects a wide range of materials, and has super anti-interference and shock-proof capabilities.
◆Motor speed is 26 meters per minute, and supports 24-hour uninterrupted work.
◆Good waterproof performance, suitable for wet, cold storage and other environments.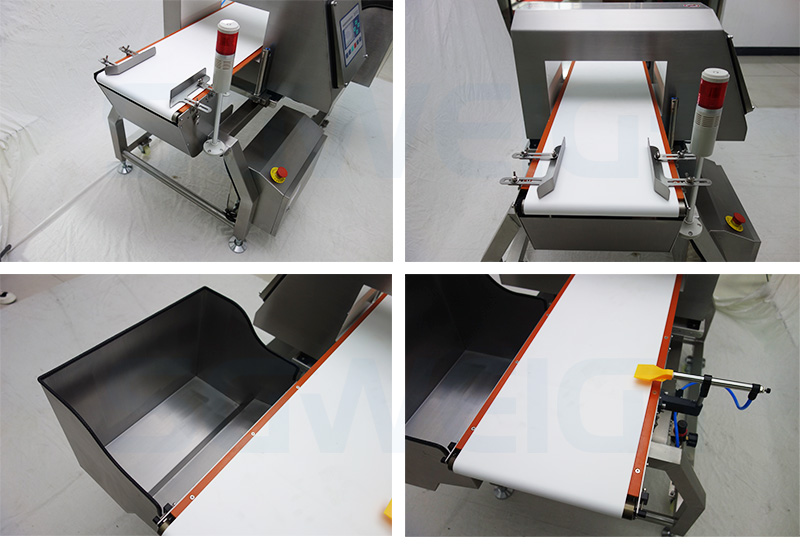 Application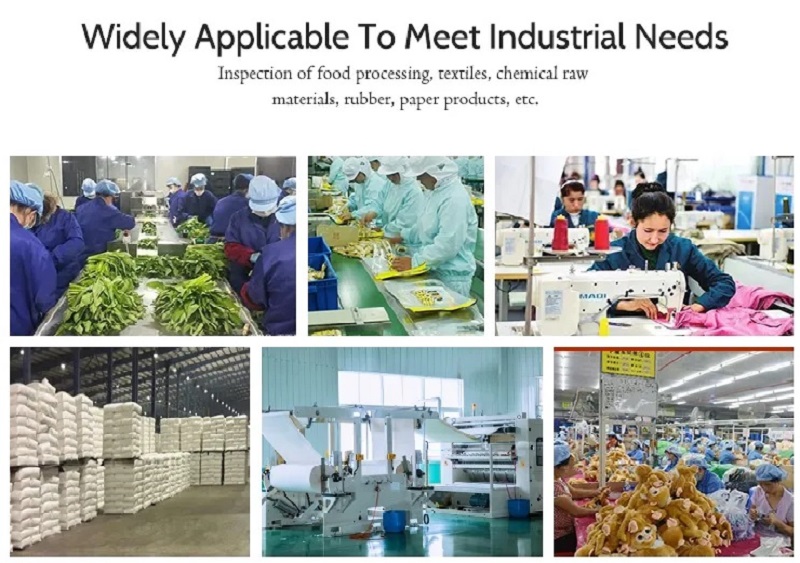 Customer Case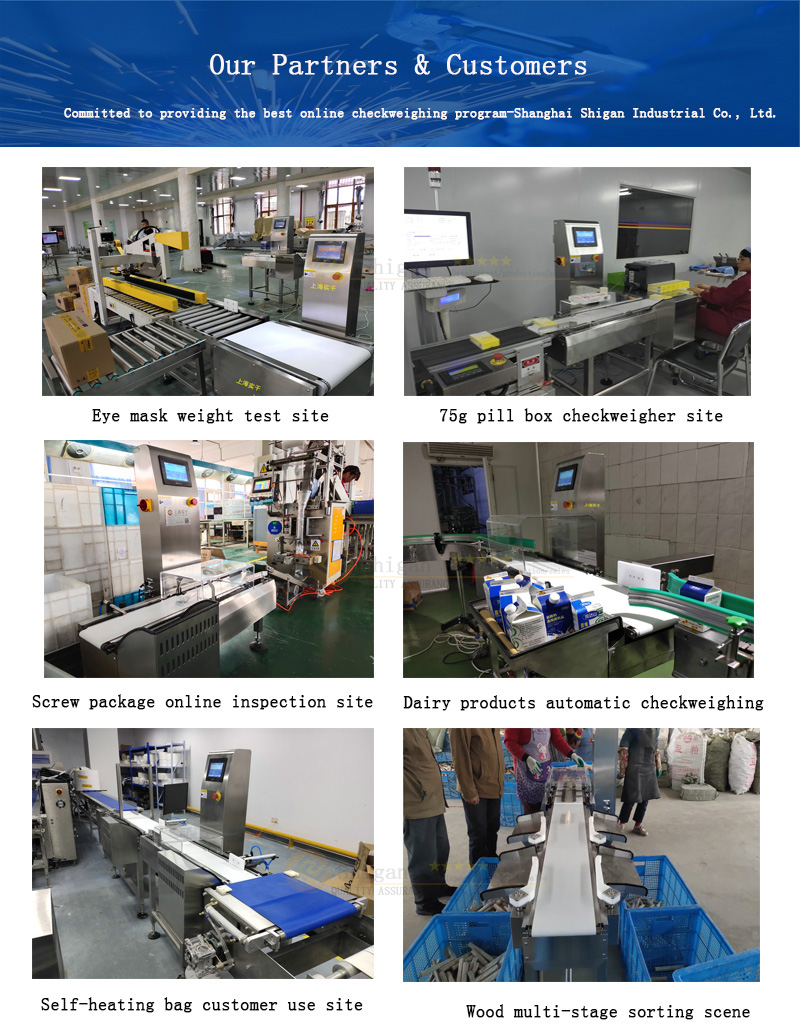 Our Exhibitions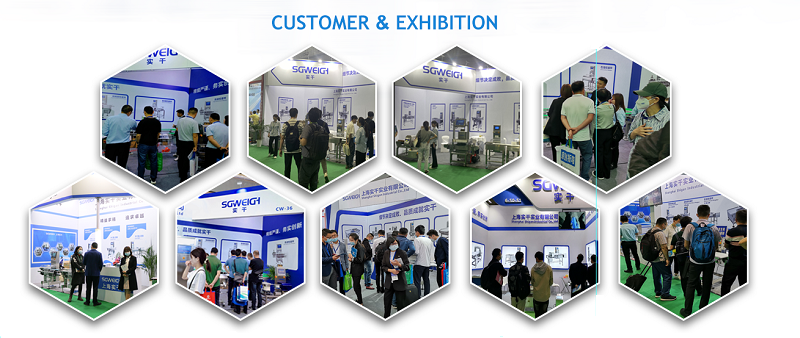 Package & Shipping
1.Before packaged, the machines will be tested strictly to guarantee the stability and high accuracy.
2.After tested, the machines will be wrapped with plastic sheet and carefully packed in wooden cases.
Packing Detail:
1.Each Machine with plastic film package first, then placed in a wooden case, wooden case with a foam filling.
2.We loaded the truck with heavy trucks for loading the cargo to the harbor terminal.At the dock we pack the goods in containers and ship them abroad.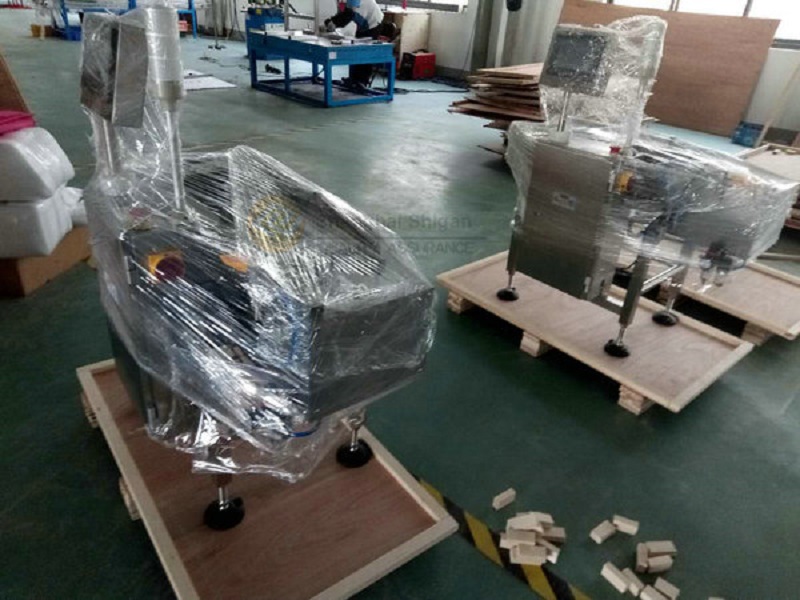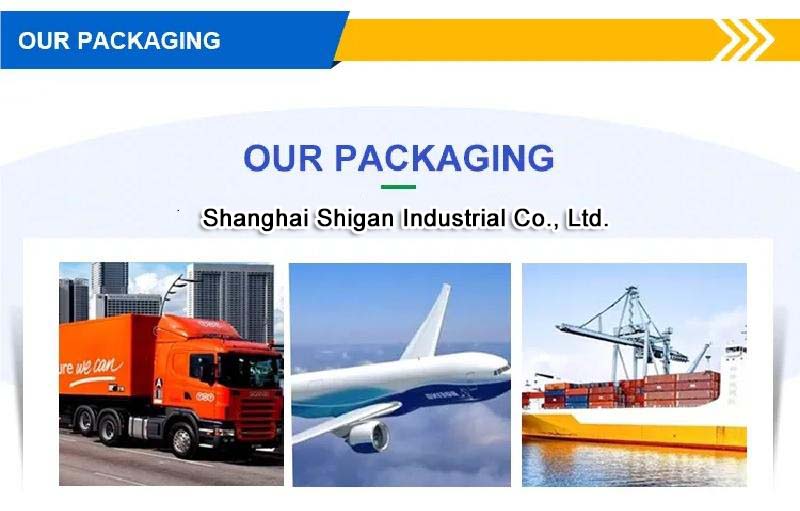 FAQ
1. Who are we?
Shanghai Shigan Industrial Co., Ltd. was established in 2010. The company is located in Shanghai. Checkweighers, metal detectors, packaging machines and other products are exported overseas to provide customers with better solutions.There are total about 51-100 people in our office.
2. How can we guarantee quality?
Always a pre-production sample before mass production.
Always final Inspection before shipment.
3.What can you buy from us?
Check Weigher,Metal Detector, Packing Machine,Mulithead Weigher,Linear Weigher,Weigh Labeling Machine,Filling Machine,Mulit-Lane Checkweigher.
4. Why should you buy from us not from other suppliers?
Shanghai Working and industrial Co.,Ltd is a high-tech enterprise incorporating technology, research development and processing and marketing. It has 13 years of experience in weighing, testing, packaging fields.
5. What services can we provide?
A. Pre -sale:
1. In accordance with the customer's requirements, the customer quotes the customer, and the customer has special requirements for timely recording feedback;
2. Sign a standardized product order contract, clarify responsibilities and other related matters;
3. Provide free warranty for one year, lifelong maintenance service, and be responsible for debugging the product before delivery;
B. After -sales:
1. If the customer's product fails, the problem will be solved for you as soon as possible
2. During the warranty period, the product maintenance is free. It exceeds the warranty period and can also provide maintenance. If the accessories are replaced, the product accessories are provided at the cost price.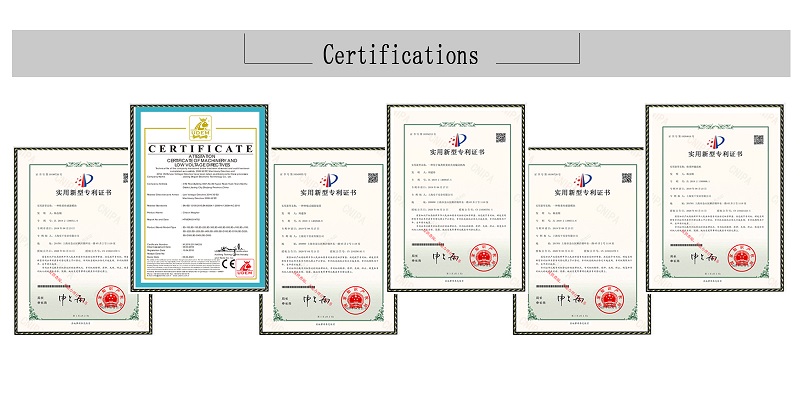 Hot Labels
Multi-level Sorting Checkweigher